| | |
| --- | --- |
| Bust: | 83cm |
| Waist: | 57cm |
| Hips: | 103cm |
| Cup Size: | B-C |
| Clothing: | XS,S |
| Women's Shoe: | 7 US / 37-38 EU |
| Height: | 157cm |
| Weight: | 41kg |
| Vaginal, Anal and Oral Insertion Length: | 7''/7''/5"inches |











Kari




The wait for a high-end, revolutionary love doll is over!Jarliet brand original doll Kari is released!

Kari is the one the most lifelike fuck friends ever designed. Movable from head to toe, right down to their fingertips, your doll was carefully created to fulfill fantasies and inspire intimate pleasure on all levels. With incredible attention to detail, discreet packaging, and super soft Fanta Flesh skin, she will make all of your dreams come true!

Her brown locks will tickle and tease, while her gorgeous yellow eyes will captivate you. Open her tender lips to experience the ultimate oral fantasy, or wrap her dainty, bendable fingers and painted fingernails around your rod. Her graceful feet are sure to please foot fetish enthusiasts! The firm, perky breasts are waiting for a titty fuck, while her ass is pleasantly snug.

Kari features intricate eyes, supple lips, a realistic pussy and pretty toes. Her entire body is supported by a strong stainless steel skeleton that has moveable and flexible joints just like a real Girl!

Pose her in any position you can think of, dress her in your favorite lingerie or bikini, spray your favorite perfume on her, and fulfill all of your fantasies!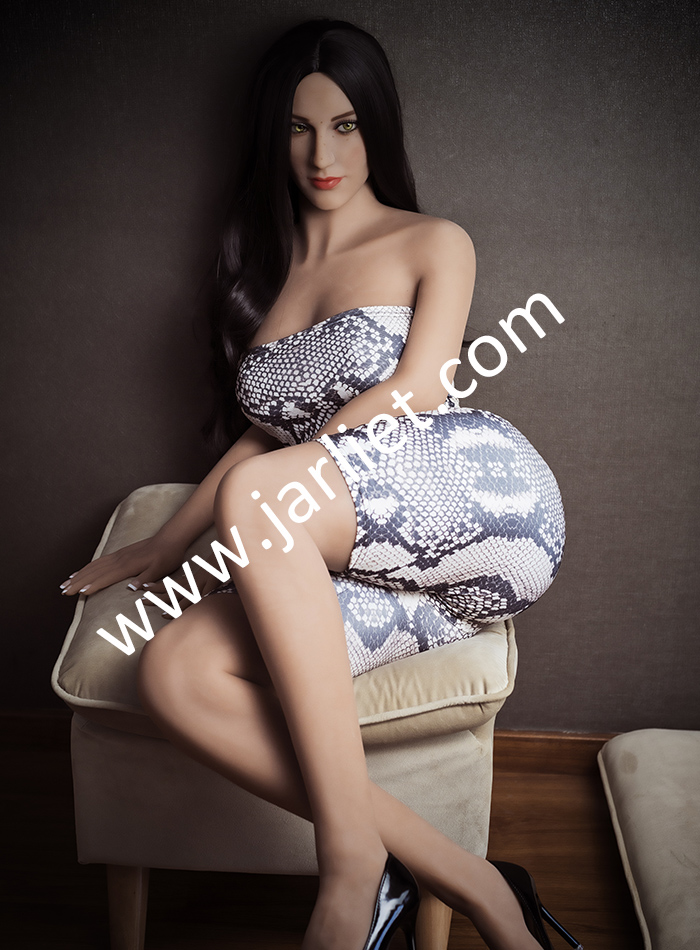 She can please you with her mouth, vagina, and anus .
Beautiful TPE sex doll, with highly realistic skin, vagina, hands, feet that feels amazingly life-like.
Tall and wonderfully fit, beautiful, and highly realistic TPE sex doll.
She has a fully articulating skeleton which allows you to pose and position her just like the real thing.
Advantages of Jarliet TPE Realistic Sex Doll
1. Durable - Can be used for long time, not easy to be damaged.
2. Lifelike - The TPE material has real skin touching, and it is same-size ratio like real human being.
3. Flexible - Any pose can be set with metal skeleton inside.
4. Security - No peculiar smell, 100% medical non-toxic material, certificated by ROHS, MSDS, etc.
5. Extension- The special TPE material can be stretched up to 5.5 times.
Application and Maintenance
1. Cleaning
Clean the body with soft towel with warm soapy water before and after application instead of brushes or acid detergent. Clean the face gently. Wipe with dry cotton towel, put on some talcum or baby powder, and avoid sun exposure.
Please keep the head away from water, clean the wig with shampoo, and dry it naturally instead of hair dryer.
When the body skin becomes sticky, talcum powder or baby powder could be used to dry and smooth it.
2. Advise to use with condom.Personal use only.
3.If damage appear, please repair with repair silicone or inquiry us for help.
4.Please avoid the doll being dropped, knocked or broken.
Payment :
T/T, Western Union, PAYPAL, etc.
Package & Shipping
One carton for one doll. Customized packaging accepted. Express, air or sea shipping.
Delivery Time
After payment, about 2-7 days dolls will be shipped out.
After-sale Service
A .We can accept returning or replacing goods for quality problem or damage caused by seller.
B. We can be assist of solving any quality problem or damage not caused by seller.
C .We can guide buyers to repair damage to save cost for our buyers.